Wild Texas Hits Perpetual Ad Co-Ops




"The Ultimate Ad Dollar Secret to Get Unlimited Advertising For As Low As 30 Bucks Monthly!"
My first month advertising by my self I've got 80 Referrals in Wild Texas Hits TE, All from buying 1 ad in newspapers and doing online advestising. That will pay me 80 Percent Commissions when any of the 80 people buy credits or upgrade and I'll earn another 10 Percent Commission when those people get paid 80 Percent Commissions from people they bring into Wild Texas Hits who buy credits or upgrade. I did sign up a few people who did upgrade and that will pay me monthly more than the cost of Co-Op.
My ad cost $32 and my online advertising I traded views for views in other TE's.
I could of doubled what I did with one partner on a rotator system that I now have set up at: http://PerpetualAdCoOps.com If they came in and purchased 1 spot for 30 bucks on the Wild Texas Hits rotator. We can get the same results I got monthly for a $30 subscription. If you need to sign up for Wild Texas Hits use the link above. I suggest you upgrade for higher commission payouts!
With 10 people or spots we would have $300 monthly ad budget.
With 20 people a $600 monthly ad budget.
With 40 people $1,200 monthly ad budget.
With 80 people $2,400 monthly ad budget.
So on and on. You can buy more shares then just one. With one share you get your Wild Texas Hits Affiliate Link in 1 spot for $30 but if you want two shares you get your Wild Texas Hits Affiliate Link in 2 spots for $60 monthly! So on and on... 3 spots $90, 4 spots $120 what ever your ad budget is and the rotator goes from one spot to the next spot.
Here are some of the ads I will be running under Help Wanted in newspapers.
Here is a 3x6 classified ad I will make into a Display Ad
Here is a 2 page letter I will mail to people who respond.
I will also be taking all the calls and closing the deals.
Everything is done for you.
I will be creating more sales material and ads.
Together we can do great things with Wild Texas Hits!
This is just my personal results from 1 ad in * ABILENE, TEXAS Thrifty Nickel, American Classifieds Weekly Newspaper. We can blanket the whole United States together for as low as 30 bucks monthly as a group.
If you want to place ads in newspapers and magazines by your self you can click here where I place my ads or go there to see the circulations. We can reach billions of people in no time flat together. Together we stand divided we fall.
Steve Stafford - 417-660-4157 EXT. 10,
422 S.E. 1st Lane,
Lamar, MO 64759 USA
PerpetualAdCoOps.com

I have a Vision of what CAN BE!
The Sooner You Join The Better For You Because I'm Driving Huge Amount Of Traffic To Wild Texas Hits Perpetual Ad Co-Ops Daily And That Means Money For Co-Op Members!




To buy share(s) on the Wild Texas Hits Rotator Click Below! I will look up your name on order and put your affiliate link on the rotatory right away! If I have any problems I'll contact you by e-mail.





You may cancel your subscription at any time and your Wild Texas Hits URL will be removed from rotator. No refunds because all funds have been used for advertising.





Wild Texas Hits sign up link by PerpetualAdCoOps.com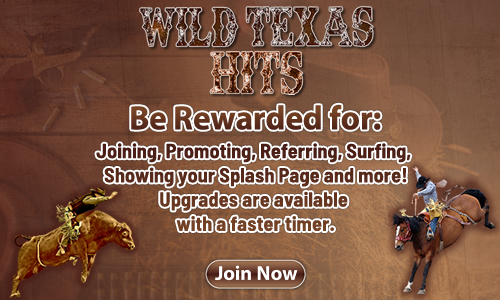 Send People To This Page To Sign Up For Wild Texas Hits and The Perpetual Ad CoOps.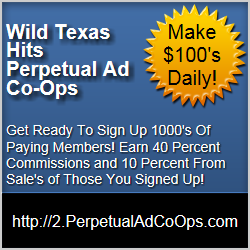 E-mail Me And Let Me Know How The Ad Co-Op Is Working For You
With Your Permission I Will Post Your Story Below Here and If
You Have A Small Size Photo Send It Too!



Sincerely,
Steven Stafford